Welcome to Sindbad Camp Dahab Egypt
Welcome to the Sindbad Camp website! Glad you found us.
Sindbad is the last traditional Bedouin Camp in Dahab that is located directly on the seafront with a beach that is free of buildings.
You can find us in The Lighthouse Area, a lively neighbourhood with many fine restaurants and lovely shops.
About 75 meters from the Camp there is an easy entry to the sea, where you can enter the water for a swim or to snorkel, surf or dive.
The Oda Nasr family owns the Camp.
The local Bedouin family rented out the Camp to Marcel Wets, a Dutchman who came into the Camp in the early 90s as a guest.
Since 2008, he and his staff, who are all Bedouin, made the Camp into what it is today.
A cosy place where you can find buddies and friends, all within one big family atmosphere that conveys the traditional spirit of Dahab.
Many of our past and present guests say it's the best place to stay in Dahab.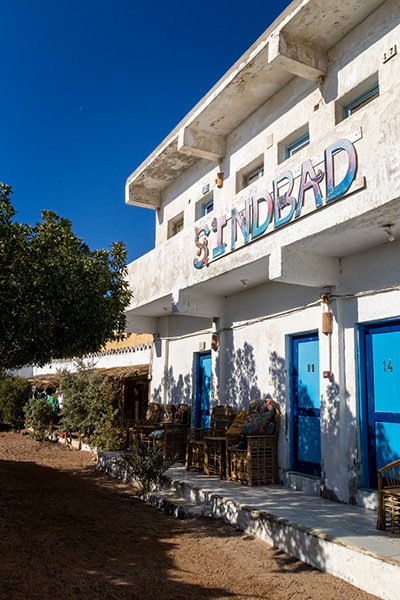 There is a small restaurant in the Camp where we offer simple but tasty breakfasts and lunches at reasonable prices, where you can dine on request.
Because we want to give our guests freedom in where and what they eat, these costs are not included in the room prices.
In the Camp, you will find many places to relax and meet friends.
If you have to work online, there are plenty of areas where you can do so in total peace and tranquillity.
There is free WIFI in the Camp.
But if you have to work online from the Camp, we advise you to purchase a MIFI and an Egyptian SIM card. You are then assured of the best possible connection.
We offer various private rooms, from very simple to reasonably luxurious.
We provide clean bed linen but do not provide towels.
During your stay, you are responsible for keeping your room clean.
You can make a reservation by using the Contact Us page on this website.
Be aware that it is not allowed to engage in commercial activities within the Camp without permission from the general manager.
With all that said!
Marcel and the Sinbad Camp Staff look forward to meeting you and wish you a delightful stay and a fantastic time in Dahab.